Our headquarters, opened in May 2013, is strategically situated at Fort Lauderdale International Airport, which is also home to Spirit's training headquarters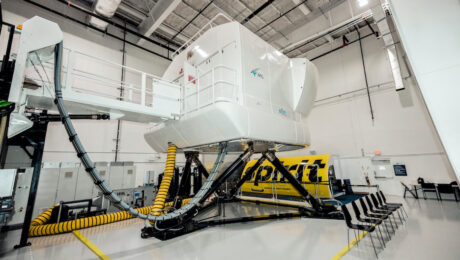 In 2013, Spirit Airlines partnered with Avenger Flight Group to create solutions for Spirit's growing flight training department. The partnership began in AFG's then-only training center headquartered in Fort Lauderdale, Florida. At the time, Spirit had approximately 30 aircraft and AFG managed 2 simulators and a handful of classrooms.
---
Spirit Fleet Growth
---
The AFG Commitment
Fast-forward nearly 10 years and Spirit has grown exponentially, going from the 30 aircraft to over 160 in 2021, and AFG has been there to support them each step of the way! We currently have 12 training centers with more than 35 simulators. Several of those centers, such as both our Dallas locations and our Las Vegas location, were built to serve as hubs for Spirit's quickly growing flight training needs.
Solidifying itself as one of America's major ultra-low-cost carriers, Spirit's demand for training, facilities, and simulators only continues to increase, and it is our pleasure to provide support for their growth for years to come!
A Satisfied Customer
"It is with our highest endorsement that we recommend AFG for your business needs and are confident their commitment to service is a big part of their overall business model." – Spirit Airlines Director of Training.