All the categories at afgsim.com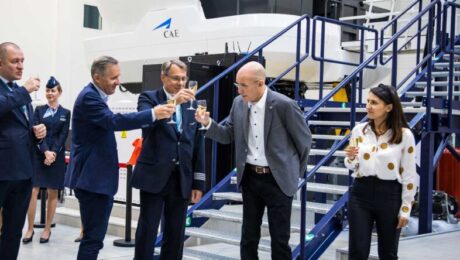 Warsaw, Poland – September 16, 2020 Avenger Flight Group, LLC, has launched Poland's first commercial aviation training center in a joint venture with Enter Air, the largest charter carrier in Poland. The newly constructed space will feature a Boeing 737NG certified to level D by the Civil Aviation Authority of Poland (CAA) and the European Aviation Safety Agency (EASA).
The opening of the Warsaw training center marks the third European training center Avenger Flight Group has unveiled in 2020, after Madrid and Rome, to offer customizable training needs to European airlines. The inauguration was attended by officials from the Polish CAA, Enter Air board members and AFG personnel. The custom-built training center has capacity for six full-flight simulators and over 10,000 sq. ft. of modern classroom, office and briefing rooms. The facility is in the 7R City Flex Warsaw Airport I complex, near Chopin Airport.
"Today we celebrate the hard work of so many individuals who helped in the planning and execution of this great accomplishment. This is an incredible achievement given the challenges we have all faced this year" says Pedro Sors, chief executive officer at Avenger Flight Group. Mr. Sors went on to say "AFG is committed to the future growth of our airline partners and delivering more opportunities to an underserviced region".
Enter Air intends to utilize 60% of the training capacity for their pilots, while the remainder of the available capacity will be offered to airlines in central and eastern Europe. Enter Air began operations in 2010 with a single 737 aircraft. Today, the airline's fleet includes 22 Next-Generation 737s and two 737 MAX airplanes.
"A year ago, Pedro Sors, the founder of AFG, called me and asked if we were interested in cooperation. We decided to work together on a new project. Within a few months, a simulator was sent to Warsaw to start training our pilots on the Boeing 737. CAE, the world's largest manufacturer of full-flight simulator equipment, supplied the Boeing 737 7000XR for training. Due to the pandemic, its launch has been postponed by several months" says Marcin Kubrak, member of the board of Enter Air.
About Enter Air: Enter Air is a Polish charter airline. Currently, the largest such company in Poland and the second largest airline in the region. Enter Air was created in November 2009. The inaugural flight was performed on the 25 April 2010 with a flight from Warsaw to Tunisian airport – Enfidha. Our airline has 7 permanent operational bases in Europe and an additional base in Ben Gurion International Airport, Tel-Aviv. Visit us at www.enterair.pl
Need more information? Contact us now!